Best known for his role in Easter 1916 and as a signatory to the Proclamation of Independence. There are a number of books, websites and other materials on the subject. His dedication to see through what had been started, despite the fact it likely meant his death and leaving behind a wife and 2 children. He saw the rising as a necessary action and had a desire to see his children grow up in an independent Ireland. Below you will find a some unique documents and or links to other web resources. If you have something you think that should be added, please let us know. I hope fro this to be come a repository of content on Thomas' patriot work.

The court martial trial records from the trial. Released by the UK sometime in the 90's it is a light record of the trial consisting of some hand written notes and official forms.
The Court Martial Speech – Shortly after the executions took place a transcribed account of the trial made surfaced around Ireland. It was said to be the speech Thomas gave at his court martial. To the best of my knowledge the authenticity of the speech has never been confirmed.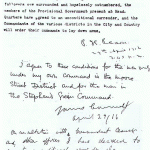 The surrender orders delivered to Thomas at Jacob's Factory. At the time Thomas was the remaining senior officer not captured by the British. Initially Thomas refused the orders saying that they had been given under duress. However after consultation with General Howe and Pearse and Connolly in custody, he relented and ordered his men to lay down their arms.